I really like the Monkie Kid theme. I love that it is based on Asian myth and and has a great playfulness about itself. So many bright colors and wild characters! I bought this set for the minifigs and the parts, but the build really surprised me!
The box lays it out clearly, I'll be getting a big roadster and a couple of smaller builds for the bad guys. I'm ready for that.
This set has a modest, but interesting sticker sheet. I won't be using it, but these might be fun to save for a future project.
Five big bags in the box with lovely variety of colors. The first bag must be for the bad guys with all the black elements. The rest of the bags build the roadster with the red and yellow color scheme. Those big wheels are super cool!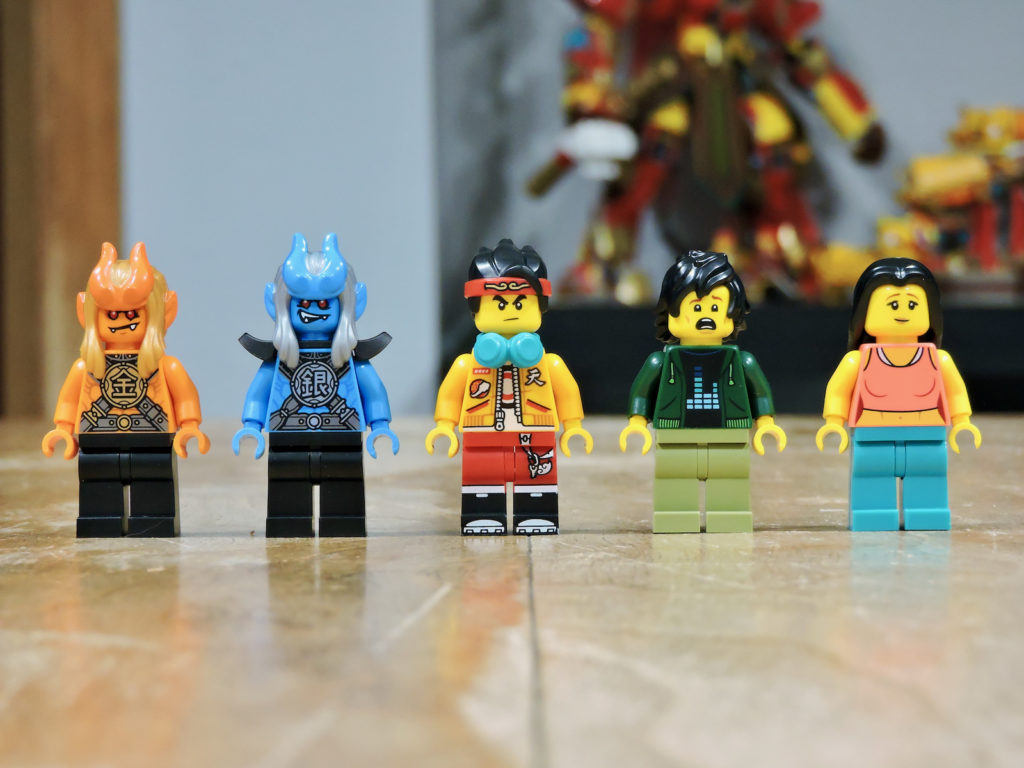 The set comes with five minifigs. The fantastic Monkie Kid fig in the middle is the same as we got in 80012 Monkie King Warrior Mech. The others are either unique to this set or fairly uncommon.
The two demons on the left are new for this set, with unique torsos, heads and hair pieces. I really like the design on these and they are one of the main reasons that I picked up this set in the first place. The Chinese characters on their chests read "gold" and "silver," matching their hair. I was a little surprised that the hair pieces aren't over-molded, but painted, with the orange and blue areas painted onto the metallic elements. The effect is still really nice and I think they look awesome.
The two bystanders on the right are also great figs. Almost all of their components are either rare or unique, so they'll make welcome additions to my collection of townsfolk.
There were so many interesting elements in this set. I separated most of them out during the build process, but I know that I forgot even more. I really love the printed dishes, but all of the recolors are fantastic. Those cloud elements are another standout and I'm excited to get so many of them in a single set.
For a set of this size, there were very few extra elements. It seems that LEGO has been able to tighten the belt in recent years, as many sets have fewer spare parts. I've never had a set with anything missing, so it seems to be working, but I do miss that little bit of extra value.
The builds for this set were a lot of fun. I'd read in another review that they were simple, but I found a lot of interesting and sometimes subtle techniques were used. This set was designed by Nico Vás and definitely has some of his signature quirks (he likes to hide frogs)! There are some lovely play features in the roadster that were a lot of fun to build.
Each of the demons has their own vehicle and some kind of weapon (pot?) that matches their color scheme. These were both simple, but sturdy builds with lots of characer.
The main attraction is the titular roadster! This is a big build with lots of little features and interesting design elements. There is a sense of humor in the details, where I suspect that the designer is laughing with us during the build. Some of my favorite parts are the simple button on the top for launching missiles and the counter-rotating elements on the back that move when the wheels turn!
There are a lot of interesting angles in this model as well, and they are achieved through a variety of techniques that should inspire most builders.
Overall, I really liked this set. Though the price per piece is a bit steeper than I would have liked at nearly 11¢ per piece, there is still a lot of value in the set, especially with all of the rare and unique elements.
If this is your cup of tea, you won't be dissapointed!
Keep building and enjoy!