I'm a little bit in love with the 8×8 vignettes that Lego is putting out for this year's seasonal sets. I saw a picture of the Easter set in the back of the instructions for the Valentine's Day set and I had to have it. Sadly every visit to the Lego Store came up empty. They were selling out as fast as they arrived. I finally decided to buy online from shop.lego.com, but they were sold out too. I must admit that I had given up until I walked into the store last week to find a whole shelf of them. I bought four without hesitation.
As one might expect from a set of this size, there were three bags of elements, a couple of larger plates, and the instructions folded inside. I would have liked an 8×8 plate instead of the two 4x8s, but that doesn't change the finished product at all.
A quick check online and I discovered that there were a lot of uncommon elements in the set. One of the big scores is the masonry bricks in dark red, but there are a number of other interesting elements. Those 2×2 round jumpers just came out this year, so I was happy to get one. The chicken and the painting elements have only been in a couple sets as well.
The minifigs in this set are fun. Both of the heads are uncommon, with a surprised look on one side and a calmer face on the other (though the boy's other face is actually quite mischievous). The boy's torso with the classic space man image is rad.
The finished build is full of nice touches. The troublesome boy has just dropped an egg (that must not have been hard-boiled). The kitchen is well realized, with a stove, sink, and coffee maker. All in all, a full scene that tells an easily recognized story. The mini-vignette of the chicken and egg seems a bit superfluous, but I won't complain about the extra elements.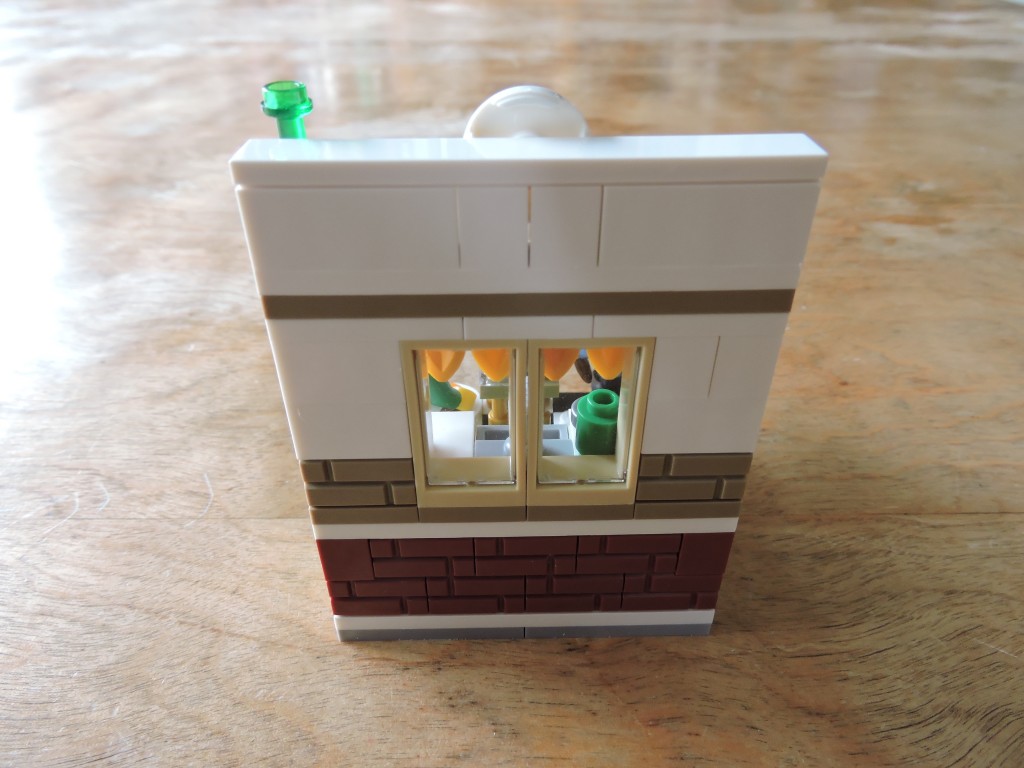 Again, like the Valentine's set, the back of the scene is cleanly built, providing a realistic exterior. This must be an intentional choice, since both sets have interesting and rare elements that can only be seen from the back.
Not counting the spare flowers, I received 11 extra elements. Combined with the 153 on the inventory, I wound up with 164 elements in a $9.99 set. Paying 6¢ and element makes this a pretty sweet parts pack. No wonder they kept disappearing so quickly.
I'd definitely recommend buying at least one of these if you can get your hands on them. My local Lego Store is sold out again and I suspect that they won't be coming back in. Grab one if you can!
Keep building and enjoy!